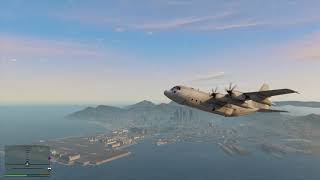 Been doing some research on how V's flying handling works and decided to make a few handlings for interesting aircraft.

I have documented my findings here, if you are interested.

Features:
- More realistic lift
- Longer land/takeoff
- Ability to stall properly
- Reduced landing gear grip and braking
- Slower Pitch/Yaw/Roll inputs
- Heavier aircraft chassis, with some inertia to them
- Smoother landing gear suspension
- Faster flying speed (up to 350mph or so on the F22)

Special thanks Lenny's Mod Loader for enabling me to learn all of this by allowing me to load new models quickly to bypass the fact that GTAV doesn't want to replace the handling data live. To update a handling live, I had to rename the model to something new so a new handling id could get loaded. LML made it very quick to do so.

Aircraft supported:
- NH 90
- KC-130J Super Hercules
- Cessna 337 SkyMaster
- F-22 Raptor
- Antonov AN-225 Mriya

Quick FAQ
- Does it include the vehicles? / No, it only includes a handling file. Download the vehicles separately above.
- Do I need to replace handling files? / No, this is an Add-On dlc. You install it as usual and forget it. It will override other handlings automatically.
- Will you include...? / Feel free to ask for other aircraft.

Installation
- Make sure you have any of the above aircraft installed. This mod ONLY affects those.
- Place the ho_aircraft folder in \Grand Theft Auto V\mods\update\x64\dlcpacks\.
- Open \Grand Theft Auto V\mods\update\update.rpf\common\data\ dlclist.xml"
and add to it dlcpacks:/ho_aircraft/ .
- Run the game. The planes and helos listed above will feel different.
---
First Upload:
December 01, 2020
Last Updated:
December 01, 2020
0 Comments
Join the conversation! Log In or register for an account to be able to comment.