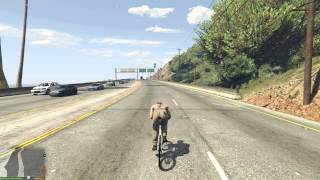 - Less sensetiv steering.
- Lower top speed.

_____
About
--------
No more bicycles that can go as fast as cars, now they will go from 40 to 70 Km/h depending on what kind of bicycle you are riding.

____
v1.2
------
Have fine tuned the speed for Mountain bike, Hipster race bike & Racing bike, they all go faster and now the racing bike shall reach the 70 Km/h mark.

____
v1.1
------
Fixed the low and high speed mixup.

____
v1.0
-------
First release.

___________
How to Install
------------------
1. First make a backup of update.rpf
located in Grand Theft Auto V\update
2. Extract the rar file.
3. Open OpenIV and open update.rpf
4. Go into edit mode
5. Go to common / data
6. Replace handling.meta
7. Close OpenIV.
---
First Upload:
May 25, 2015
Last Updated:
May 29, 2015
0 Comments
Join the conversation! Log In or register for an account to be able to comment.