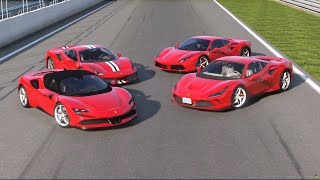 This mod was commissioned by PZTRUST. Big thanks to them for making this possible.

Want to commission an engine sound mod? Contact me on Discord and we'll see what can be done. Additionally check out my Patreon at https://www.patreon.com/theadmiester for early access to future mods.

This mod adds the wailing flat plane crank Ferrari F154 V8, known for its use in the 488 GTB, Pista, F8 Tributo, and SF90 Stradale.

Version 1.1 changelog:
- Renamed files and spawn name to ta488f154 to avoid conflicts with other mods - please update your audioNameHashes.
- Slightly lowered audio levels

Features:
- Custom startup and shutdown sounds
- Custom turbo sounds
- Custom exhaust crackles

Credits and thanks:
Legacy_DMC - GSTools and guidance
Aquaphobic - GSTools guidance, REL/XML info, general mod setup help
Xenn - Startup sound extraction

Sources:
Playground Games (Forza Horizon 5) - Engine and exhaust sounds
Polyphony Digital (Gran Turismo Sport) - Starter sounds, turbo and exhaust crackles

Instructions:
Install the OIV package with OpenIV, or apply the FiveM resource to your server, then simply use the audioNameHash entry of ta488f154 on any car.
---
First Upload:
December 11, 2021
Last Updated:
January 16, 2022
0 Comments
Join the conversation! Log In or register for an account to be able to comment.