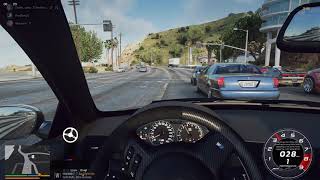 Ohaiyou, minna-san! (・ω・)ノ

Before you start requesting something in the comments, I only take discussed paid/trade requests as I have limited time to produce these mods. You may inquire in my DIscord server linked in this description.

Head over to my Patreon to get 1 month early access to 2 sound mods per month! For October, I offer a BMW E92 M3 S65 V8 and a Volkswagen Golf GTI 7 EA888 Inline-4.

For my old sound DLC package which you can also manually install this individual sound DLC to, see here.

Discord

Brought to you by [GVMA]
In the name of family.

== Mod Info ==
BMW E46 M3 S54 Inline-6 Engine Sound v1.1
Commissioned by: personal project

Changelog:
1.1 - Increased max RPM.

Requirements:
-All vanilla dlcpacks up to mptuner (Los Santos Tuners) for SP.
-A FiveM server build that supports the Los Santos Tuners assets for FiveM.

Credits:
Monky, w/, RooST4R, dexyfex - REL Documentation
Legacy_DMC - GSTools, REV guidance, NFS Payback sample extraction
3P1C - REL XMLs
InfamousSabre - Help with sample improvements/fixes, Audacity guidance
Pole Position Production - 2003 BMW E46 M3 samples from NFS Payback/Heat
TheAdmeister - NFS Heat sample extraction

Recommended to use on: https://en.wikipedia.org/wiki/BMW_M54#S54B32

== Description ==
This mod implements (without replacements!) a custom engine/exhaust audio from another game(s), which can be loaded onto any vehicle by using "s54b32" in the vehicles.meta audioNameHash entry for a given car.

Contains AWC files with an NPC/outside version along with custom DAT151 and DAT54 files used for audio configuration.

This mod uses samples that are ported from Need for Speed: Heat thanks to a newly developed granular porting method. Compare it to youtube videos of the original source!

Extra effort is also spent on non-engine-related parts of the audio, for an immersive experience.

AWC/REL code is open-source and unencrypted for those who want to edit it for personal use (such as volume adjustments) or to learn from it, however I do NOT tolerate reuploads without my explicit permission.

== Installation ==
Installation instructions and additional info are in the readme.txt.
---
First Upload:
September 30, 2021
Last Updated:
September 30, 2021
0 Comments
Join the conversation! Log In or register for an account to be able to comment.