'05 Subaru Impreza WRX STI - Realistic Handling Mod
1.0
Handling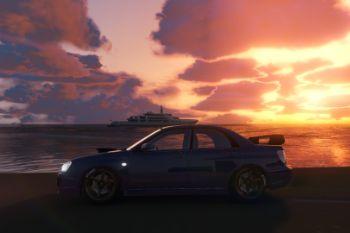 This is just my handling mod for the '05 STI. It perfectly represents the actual car itself. Everything has been changed - speed, shifting, gears, rev, braking, center of mass, weight, suspension, blah blah blah.

I made this because I don't like the other handling mods for this car, I wanted something realistic and not something that felt like I was driving on a waxed floor with a 600hp engine. After a while of using this I decided fuck it I may as well share it - so here ya go!

Oh, and here's the link for that one guy's car: /vehicles/subaru-impreza-wrx-sti-2005

It's pretty ballin'. Not perfect and I'd love to fix it but I don't have permission and work 90 hours a week. Enjoy!


#README IS INCLUDED FOR BOTH INSTALLATION AND MERGING WITH ANY INSTALLED MODS, PLEASE READ THAT

Please leave feedback and request updates/new vehicles as well as videos if you want.

Do not upload this mod anywhere else without my permission.
Do not claim you made this mod.
---
First Upload:
August 31, 2015
Last Updated:
September 01, 2015
0 Comments
Join the conversation! Log In or register for an account to be able to comment.