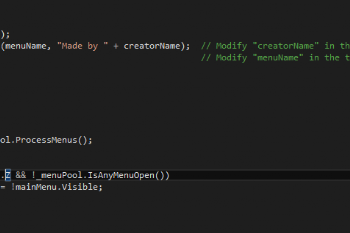 Similarly to my first upload, this is a template for making a NativeUI template, except this one only includes the main base and the submenus.
As this one is meant for developers who already are pretty figured out about NativeUI, no buttons, lists, checkbox, nothing is included. The only thing I included is the voids and one submenu for each void. Hope you enjoy!

Installation and import instructions are included with the downloaded file!

Credits:
Abel Software for the original template (yes)
jedijosh920 for the private strings (modName, creatorName) thank you!
(the strings were included in jedijosh920's Script Creator)

I may update the template as time goes if people needs me to.

Notes
People work hard at creating mods, so pay respect and don't leave hate when people upload, instead add constructive criticism and give them advice if you want them to upload "better" stuff.
---
First Upload:
August 14, 2016
Last Updated:
August 14, 2016
0 Comments
Join the conversation! Log In or register for an account to be able to comment.