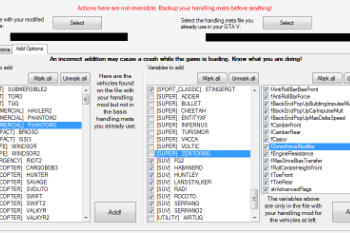 Did you download a nice handling mod, but after a bad install your GTA crashed?
Don't you want to spend a long time merging the handling data manually?
Does the handling mod you downloaded have too many vehicles, when you just want a little piece of it?
Do you want to install a handling mod with too many vehicles, but some values you don't want to change?
Does the handling mod you downloaded lack some of the vehicles your current handling has?

I think your problems are over. With this tool you can easily merge handling mods.

I just recommend you to always make a backup of your current handling because the changes you make are irreversible.

I hope you have fun merging all the best handling mods you find :)

Tutorial

For those who downloaded a handling mod:
1 - In "Select the file with the modified handling data to retrieve" you will point to the text file that contains a modded handling data that you downloaded. Don't matter what kind of file or what else is written there, the program will crawl it gathering every handling data it found and list they on "Vehicles do Replace" or "Vehicles to Add".
2 - In "Select the handling.meta file that will receive modded handling data" you will point to the file that will receive the handling data from the modded one and will be changed after all. Make a backup of this before everything.
3 - Replace Options gives you the possibility of making changes only on the lines that are in common between the modded handling and the basis handling, it is intended to be safe and recommended.
4 - Add Options gives you the possibility of take lines of the file with modded handling data and paste on the basis handling file. Insert an vehicle or an variable that your GTA don't support will cause an error, and so, be careful making adds, do it little by little testing what your GTA will support or not.

Not all replaces or addings occurred? Not all vehicles were listed? Check first the logs file generated and check for possible errors. If necessary, check the files you point to. Found something really strange? Tell on comments what wrong occurred.

Changelog
1.0.0.1: Only replaces lines in common between the basis handling and the modded handling.
1.2.0.2: Add features to insert lines of the modded handling directly on the basis handling.
1.2.0.3: Add popping menus for select or unselect all vehicles from a selected category. Improves the merging on weapons data. Forces the existence of a subhandling space in each vehicle.
1.2.0.4: Specify categories for all the vehicles up to Title Update 1.53. Fixes a problem with comments in html.
1.2.1.0: Generate logs.
---
First Upload:
June 06, 2020
Last Updated:
April 04, 2021
0 Comments
Join the conversation! Log In or register for an account to be able to comment.