GTA V Safe Launcher (ZeroSuf3r's online launcher updated and fixed)
1.2
Mod Manager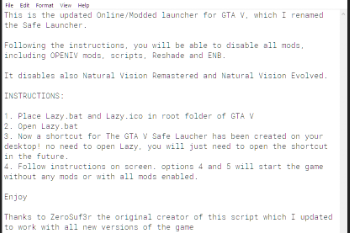 Version 1.2: fixed an issue where a line was missing in epic and rockstar versions, preventing user to input settings.

This is an update of the original Online/modded launcher by ZeroSuf3r

While the original script only worked with the Rockstar version of the game, this script will work with every version (you have to chose the right version in the folder)

This new script will add a shortcut on the desktop so that you can start the game easily with or without mods every time!

The script will enable/disable mods folder, scripts and injectors, so you can play online with 100% clean version on the game. It will disable enb and Natural Vision Evolved as well.

Thanks to ZeroSuf3r for the original script

have fun

I will never update this script, it will work as is with all versions of the game going further, there will never be need for an update.
---
First Upload:
June 04, 2020
Last Updated:
July 04, 2020
0 Comments
Join the conversation! Log In or register for an account to be able to comment.