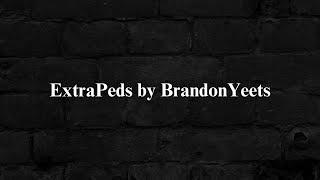 Hello, are you one of those people who wanna add Add-on peds into your mod but don't know how to, well with this ExtraPeds mod, you can with various ped options such as: Cop, Swat, Spec Ops, Civ Male and Female. This will be a great option for those who would like to expand their dispatch ped variety with many more cops and swat!

This is somewhat like addon peds but requires more time and more user input. Please see the tutorial on how to add peds within OpenIV.

Features:
Extra ped personality types ( Cop, Swat and actual Civ)

Changelog:
1.0 ExtraPeds is now online.

Bugs:
None

Instructions are in a text, Doc and YouTube for beginner's.
---
First Upload:
August 31, 2022
Last Updated:
August 31, 2022
0 Comments
Join the conversation! Log In or register for an account to be able to comment.