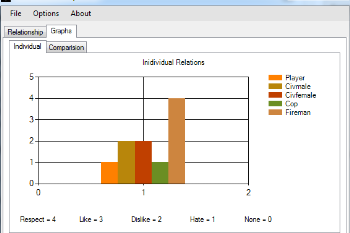 This basic tool allow you to edit the file Relationship.dat.

This file is the one that control the relationship level between and againts all the ped types of the game, like civilians, cops, animals, gangs, etc.

How to use?
Select the ped type in the combox, and fill the table with the relationship level againts all other ped types.

-Changelog.

V1.0 Firts version preview created.

v1.1 Created graphs layout.
---
First Upload:
January 10, 2016
Last Updated:
January 19, 2016
0 Comments
Join the conversation! Log In or register for an account to be able to comment.