alt:V Cloth Tool / Addon clothes dlc generator
1.2.0
Developers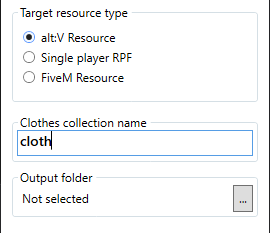 This is a tool to generate Singleplayer dlc.rpf for addon ped components (clothes) / props. It also includes support to generate FiveM / alt:V addon components / props resources.

Features

Generate Singleplayer dlc.rpf
Generate FiveM addon dlc resource
Generate alt:V addon dlc resource
Supports clothes first person model
Supports generating high heels data
Supports existing (unknown) flags
Installation
Download .zip file, extract it to some folder and start altClothTool.App.exe.
Source Code
You can find the source code and more details on GitHub:
GitHub Repository
More instruction & Latest version
Find more instructions and the latest version always at:
our website
GTA V Clothes Online Browser
Find all existing GTA V clothes on my GTA V online browser:
Pleb Masters: Forge
---
First Upload:
February 07, 2021
Last Updated:
February 07, 2021
0 Comments
Join the conversation! Log In or register for an account to be able to comment.