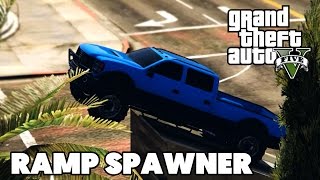 Have you ever been at full speed and wished you had a ramp right in front of you? Have you ever been looking around for a ramp to do stunts on?

This simple .dll file merely spawns a ramp in front of wherever you are (while you're in a vehicle). You can now do stunts from whenever and wherever you are situated.

Please feel free to comment and suggest new ideas to make this mod even better; thank-you.

Have fun!

Mod instructions
- Press H to spawn the ramp whilst in a vehicle
- Controller Supported - Press horn to spawn a ramp
- All ramps will be deleted from the world and from memory when your player dies.

Simple Installation
- Place the .dll file in to your scripts folder (GTA V main directory, please create a scripts folder if one isn't already there).

Updates
0.1 - Initial release, spawns ramp (without controller support)
0.2 - Spawns ramp (with controller support)
0.3 - Bug fixes and doubles speed when spawned.

Enjoy!
Please rate and comment! :)

Please ignore the low(ish) rating... I assure you that this mod is in perfect working order.
---
First Upload:
June 15, 2016
Last Updated:
June 20, 2016
0 Comments
Join the conversation! Log In or register for an account to be able to comment.