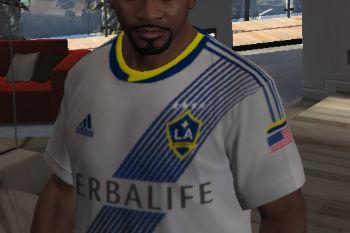 A bit inaccurate 2015 L.A. Galaxy Kit with Steven Gerrard's name on the back. The sleeves and general quality of the kit is what needs to be worked on. It also looks very bad in selfies, but it looks pretty neat with general gameplay.

Using OpenIV navigate to C:\Program Files\Rockstar Games\Grand Theft Auto V\x64v.rpf\models\cdimages\streamedpeds_players.rpf\player_one\uppr_diff_004_n_uni.ytd
And replace existing one with provided one.
---
First Upload:
June 09, 2015
Last Updated:
June 09, 2015
0 Comments
Join the conversation! Log In or register for an account to be able to comment.